Assistant Presding Bishop Of Global United Fellowship Bishop Sheldon McCarter Church In Foreclosure And Due To Be Evicted Next Week But He Went To Vegas For Some Rest And Relaxation!!!
Warning
: Illegal string offset 'youtube_video_url' in
/home/obnoxiou/public_html/wp-content/plugins/wpsmart_siren/post/featured_post.php
on line
85
Warning
: Illegal string offset 'upload_preview_video' in
/home/obnoxiou/public_html/wp-content/plugins/wpsmart_siren/post/featured_post.php
on line
89
Email me your story to WilliamGMcCrayiii@gmail.com now! Follow me on Facebook William G. McCray III and ObnoxiousTelevision.com with William G. McCray III on Twitter @WilliamGMcCray, Instagram @SirWilliamGMcCrayIII, Periscope @SirWilliamGMcCrayIII to watch my live viedos and to keep up on the latest!!! CashApp $SirWilliamGMcCrayIII
Everything Is Going Down, But The Word Of God……Well, Bishop Sheldon McCarter is about to loose his church if God does not give him a miracle or close to $4 Million Dollars by next week or a new bank to assume the loan.  Hopefully Bishop Neil C. Ellis is more than talk and can actually help his assistant presiding bishop save his church.  However, Obnoxious Media knows first had that Bishop Ellis and his so called staff lack integrity.  We are still waiting on payment for our agreed coverage of his conference that his assistant Michelle Duffy invited us to attend and cover, but refused to pay our honorarium.  Bishop Ellis seems ove far to close to Michelle for comfort and loves to wear low cut outfits with her breast constantly exposed is not a God look for a woman that claims to be a marketing and PR person for bishops and churches.  McCarter might have to figure this one out on his own and should leave Global United Fellowship Of Churches since they do not seem to be willing or most likely not able to assist in bailing him out.  A poor testimony that one of the main leaders of the organization cannot hold his own church how is he capable of leading anyone.  This and J.J. out of Raleigh is pulling out due to his having been promised New Birth in Atlanta.  Seems Ellis hoodwinked him and saw to it that Jamal would get the Church after their first choice, Bishop Marvin Sapp, also of Ellis' Mickey Mouse/Donald Duck wannabe organization could not get the church due to his not being able to pass the physical to quality for a keyman insurance.  According to members of the Obnoxious Street Committee Marvin has a pre-existing condition that prevented him from getting the church.  Sheldon McCarter boast his church is the greater church, but that will not be the case is they are outside.  It seems Sheldon McCarter had an emergency meeting with his members last Tuesday and asked them to go into their 401k accounts and mortgage their homes to help the church come out of foreclosure, but the next day he flew to Las Vegas for a little rest and relaxation.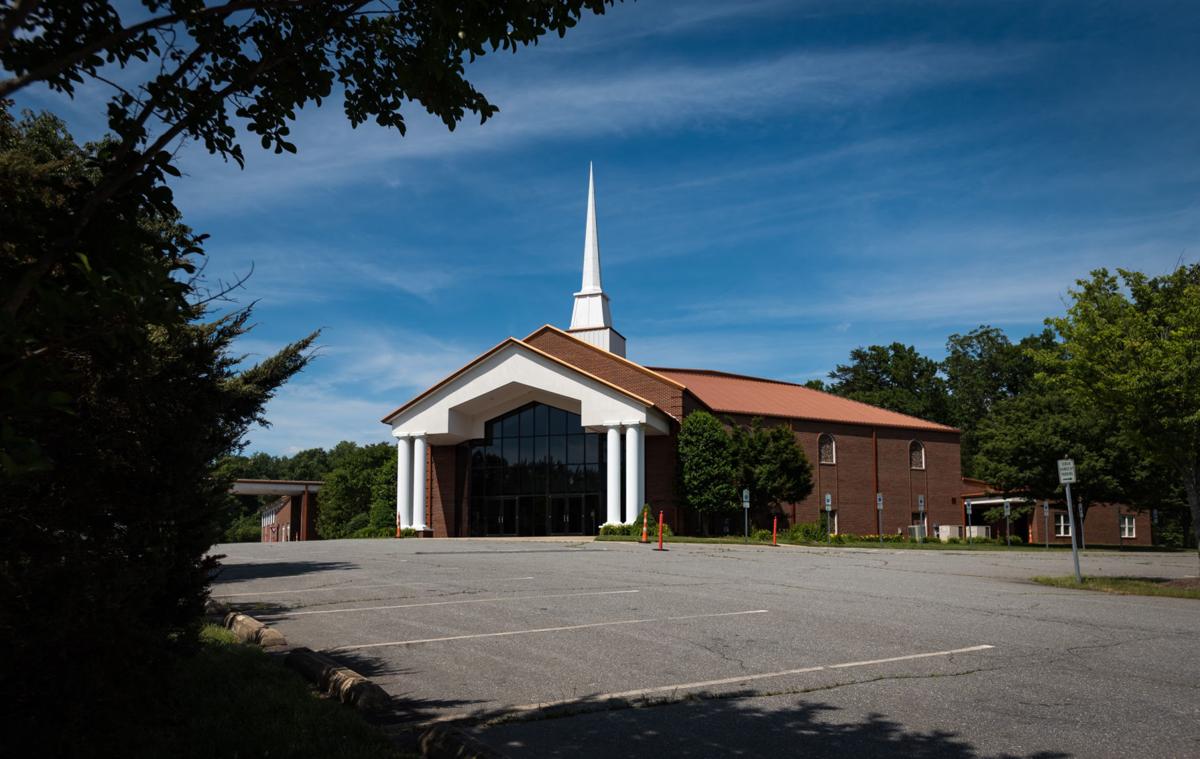 The Greater Cleveland Avenue Christian Church, founded in 1893, defaulted on its mortgage in 2018 and owes Tennessee-based Apex Bank $3.3 million.
The church is now located on Lansing Drive in a sanctuary it constructed in 1999. Also on the 15-acre property is the church's Family Life Center, which it built in 2000. The church had obtained $3.7 million in financing to develop its site, with the property serving as collateral for the loan.
The church filed for Chapter 11 bankruptcy protection on April 20, 2018. Chapter 11 give a debtor a way to reorganize its finances and debt, and protects against foreclosure if the debtor follows a court-approved reorganization plan.
Apex Bank has told the bankruptcy court that the church has failed to live up to the terms of the reorganization plan the court approved on Feb. 22.
The church is asking the federal bankruptcy court for more time to find a way to come up with new financing. The court will hold a hearing on Wednesday — two days before the scheduled foreclosure sale — to consider the church's request.
Meanwhile, the church on its web site is invoking divine assistance. The church has posted a "Greater Confession," written in capital letters, that includes this proclamation:
"Now Satan, and Apex Bank, we bind you and your negative activity in the name of Jesus and we loose ministering angels and the spirit of God to minister for us and to bring the necessary finances, so we may carry out the will of God for this ministry."
A woman at the church office said Wednesday that the church had no comment. A message was left with McCarter asking him to call, but he did not respond on Wednesday. The woman at the church, who would not give her name, told a Obnoxious Media that the church property was private property and posted to that effect.
Under the Feb. 22 reorganization plan, the church had until March 31 to either pay off the Apex debt or lose its property. The church had to give Apex a deed to the property, but Apex agreed not to record it until March 31.
In the reorganization plan, the church also agreed to cut the pastor's salary, but left in place house and car allowances along with "love offerings" given by members of the congregation.
During the bankruptcy proceedings in 2018, Apex had criticized the church for continuing to pay its pastor, Bishop Sheldon McCarter, a salary of almost $100,000 per year, plus a $57,000 yearly housing allowance, a car allowance of almost $15,000 per year, and health insurance of about $33,500 annually.
As well, a bankruptcy analyst reported that McCarter was getting "love offerings," birthday and other gift offerings from members of his congregation. These amounted to about $9,500 for two months in 2018.
In addition to McCarter's compensation, the church was paying his wife and co-pastor Joyce McCarter a car allowance of almost $8,000 yearly, according to court filings. Elder Ewlyn T. Jackson, associate pastor, received $6,000 yearly. Diana Jones, the church's chief financial officer, received $22,800 yearly for her part-time work.
When the church filed for bankruptcy, at first it proposed keeping McCarter's compensation unchanged during the reorganization.
Nicole Farabee, an administrative analyst for the bankruptcy court, looked at church finances in June of 2018 and wrote that McCarter's "salary and extra incentives seem rather large for a church in financial distress." Farabee suggested reducing McCarter's compensation, calling his pay "an area of concern."
Later in 2018, the church agreed to eliminate McCarter's salary, but allow him to keep his other compensation, including the "love offerings." The church said that would save $6,000 per month in expenses.
The church said it would cut expenses by $3,000 per month by closing a rental space in High Point where it held services. In October 2018, the church announced a capital campaign, asking 200 members to increase their offerings by $100 per month starting in 2019.
The church acknowledged in an April filing that it had failed to refinance the Apex loan, that it had not vacated the property, and that the deed in lieu of foreclosure, given to Apex under the reorganization plan, was flawed.
Nonetheless, the church is asking the court to modify its reorganization plan to give it until June 1 to pay off the Apex debt, asserting in recent filings that it had lined up an agreement for a $2.7 million loan that, while not coming up to the amount owed, "speaks to just how close (the church) is to being able to satisfy Apex Bank's claim."
But there's more: The church wants the court allow it to propose a modified reorganization plan that would allow other church creditors, who are owed some $100,000, to override any dissent by Apex on the terms of the plan.
The church said in a filing that it can't pay those other creditors unless it is allowed to continue holding services in its current location. It said that evicting it from the site "would create (an) existential crisis both for the church and for those unsecured creditors whose claims will be paid only if the church remains viable."
"It simply cannot be overstated how demoralizing and destructive to this venerable congregation it would be for them to be evicted from their place of worship," the church said in its filing.
A church filing in the bankruptcy case says that in the years before filing bankruptcy, the church, "one of the largest and oldest African American churches of its kind in Winston-Salem," had suffered a drop-off in membership.
Older members had died or could no longer attend, and people had moved away. But the church said membership was on the increase during the last couple years and that it expected offerings to increase as a result.
The church said Apex had agreed to take $2.7 million in September of 2018 to fully satisfy the debt, but that the church had not been able to refinance at that time.
The church has been filing monthly financial statements with the court, showing an up-and-down pattern of gains and losses that appear to more or less break even over time.
Design is not just what it looks like and feels like. Design is how it works.
- Steave Jobs
The very important thing you should have is patience.
- Jack ma